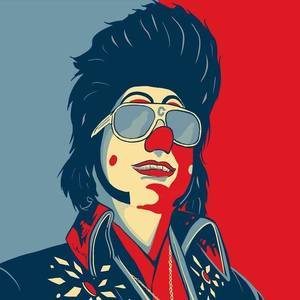 Clownvis Presley
Special guest
The LA Weekly calls Clownvis Presley "Better than the real Elvis". A bold statement indeed, but when it comes to quick wit, incredibly catchy songs, and genuine showmanship, its safe to say Clownvis has earned the title "The King of Clowns". From the sideshow at Coney Island to the hottest comedy events in Los Angeles and everything in between, Clownvis is consistently brining his unique blend of comedy, song, and magic to stages across America.
Clownvis Presley has been a guest on 1 episode.
December 14th, 2020 | 1 hr 14 mins

clownvis presley, clownvis to the rescue, comedy, coronavirus, covid-19, jp patches, lock down, quarantine, tacoma, youtube

The king of clowns, Clownvis, is in the house!! The long-awaited conversation has finally happened!!

Clownvis Presley offers a unique blend of comedy, song, and magic to people across America. He has been cited as being "Better than the real Elvis". He tours with prominent bands like Insane Clown Posse, Neil Hamburger, Mac Sabbath, Unknown Hinson, Tim Heidecker and more. In addition to performing throughout the US, he has appeared on The Tom Green Show, Sirius XM, Comedy Central, and a variety of FM stations and NOW finally, The Grit City Podcast!