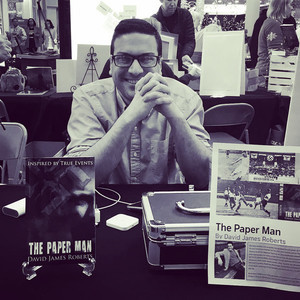 David James Roberts
Special guest
David grew up in New York, just outside of New York City. When he was 16, he went to a boarding school outside of Boston which was a school that specialized in teaching students with dyslexia and learning disabilities. Reading was extremely difficult for him before attending that school. He then said, "I hate the winter" and decided to go to the University of Arizona. After spending a few years there doing all the fun things that college kids do in the heart of the Catalina Desert, he got a job working as a production assistant for John Tesh on his radio show. After spending two years trying to convince him to do a cover version of Pantera's "Cemetary Gates" or at least reference "Jump" while playing the NBA's theme song, and competing in a few air guitar contests, he went to graduate school to learn how to become a television journalist. He worked as the Four Corners Bureau Chief for three years for KOAT out of Albuquerque and then was a beat reporter for two and a half years with KWCH in Wichita, Kansas. After leaving the uncompromising business of news (in short, he completely burned out working as a reporter), he became an instructor at Bethany College teaching camera techniques and visual storytelling as well as the elective course History of Rock 'n' Roll and Art. He and his wife then moved to the Pacific Northwest in 2014, and we've lived here happily since. He's worked a variety of jobs after being laid off from Xerox in 2016, including producing and helpin edit the documentary, "The Life, Blood, and Rhythm of Randy Castillo," (streaming now on Netflix) and also wrote for South Sound Talk. He's currently starting a career as a voice actor and has begun working on a follow-up book which he hopes to have done by spring 2020.
Together, him and his wife have one daughter and another on the way. He's a big soccer fan (even though almost none of his favorite teams are "big teams") and it is part of that passion and interest in soccer which attracted him to the story of Matthias Sindelar. He feels that soccer is one of the few things in this world that truly is a universal language and that "it transcends cultures, religions, politics, and borders. It is such a force that Hitler tried to weaponize it in the 1940s, something that Mussolini did in the 1930s. That struggle, how soccer-something that brings people together-is now being used to tear people apart, is what the soul of my story is about. While I did fictionize the story of the last days of Matthias Sindelar, I feel that I told his story truthfully and honorably. "
David James Roberts has been a guest on 1 episode.
December 30th, 2019 | 58 mins 11 secs

author, david james roberts, matthias sindelar, national novel writing month, soccer, sports, the paper man

On this episode David James Roberts, local Tacoma author, sits down for an exclusive GCP one-on-one conversation with Justin. David's first book, "The Paper Man" is a fictional story based around the real life soccer player, Matthias Sindelar.