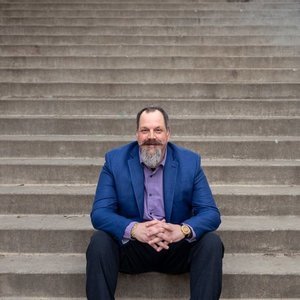 Deane Benninghoven
Special guest
Deane Benninghoven has been a guest on 3 episodes.
March 14th, 2022 | 55 mins 24 secs

abuse, anger, anxiety, artist, certified hypnotist, deane benninghoven, hypnotherapy, ptsd, reduce stress, self-confidence, summit hypnosis

Deane Benninghoven, certified hypnotist and artist, located in Tacoma, checks in with the GCP team with Jasmine and Kellie, that have joined Summit Hypnosis since he last visited the podcast. Summit Hypnosis provides hypnotherapy to help adults and children overcome trauma, abuse, PTSD, reduce stress, anxiety, anger, change emotional patterns, increase self-confidence, focus, and performance in sports, school, and work. For more information, you can find them online at www.summithypnosisnw.com. Deane has also joined the podcast on episodes 79 and 99!

December 23rd, 2019 | 53 mins 48 secs

deane benninghoven, floating, isolation tanks, jessie puryear, summit hypnosis northwest, urban float

Deane Benninghoven from Summit Hypnosis NW and Jessie Puryear from Urban Float join GCP to talk about their recent hypnotherapy experience with two floaters that received hypnosis therapy while in the tank. Deane is a certified hypnotist and artist located in Tacoma. He uses hypnotherapy to help adults and children overcome limiting and negative behaviors and chronic pain. Jessie Puryear is the owner of the Urban Float Tacoma franchise. His location has six rooms featuring the DreamPod Max Float Pod.

August 5th, 2019 | 1 hr 8 mins

anxiety, art, artist, certified hypnotist, creativity, deane benninghoven, flow state, hobo nickels, hypnosis, hypnotherapy, hypnotism, self-help, self-hypnosis, stress, summit hypnosis

Certified hypnotist Deane Benninghoven stops in to talk about using hypnotherapy to overcome limiting and negative behaviors, chronic pain, and increase creativity.